BMW 4 Series Coupe - Driver's door cannot be opened from outside, external door handle not functioning | HELLA
BMW
4 Series Coupe
Type: F82
Model year: from 2014 onwards
Driver's door cannot be opened from outside, external door handle not functioning
If the problem described above is identified, one possible cause may be a malfunctioning of the unlocking mechanism in the driver's door.
In such a case, the unlocking wire has loosened itself from the installation position.
Repair notes
First remove the door trim panel (driver's door side) in accordance with the vehicle manufacturer's specifications.
Place the unlocking wire in the correct installation position and fix it securely with a cable tie. (see photo)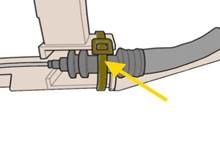 Carry out a visual inspection of the entire unlocking mechanism and repair if necessary.
Reassemble the door trim panel in reverse order to its dismantling.
Finally, a functional test of the repair work should be carried out.
IMPORTANT:
Please note that such repair work should only be carried out by an authorized specialist workshop and that the vehicle manufacturer's repair and maintenance instructions are to be observed!