VW Sharan (7M6 / 7M9) - Engine warning light illuminates | HELLA
VW
Sharan (7M6 / 7M9)
Model year: 2000 – 2010
Engine: AUY 1.9 TDI
Engine warning light illuminates
There has been a complaint of a drop in performance during the acceleration phase in the above vehicles.
The engine warning light (malfunction indicator light, MIL) illuminates and the following error codes may also be stored:
P0225, P0226, P0227, P0228, P1630, P1631, P1632, P1633, P1634, P1639, P2122, P2123, P2127, P2128, P2135, P2138
The error codes listed above all refer to an issue in the area of the accelerator pedal sensor (figure 1).
In this case, insufficient contact in the connection between the accelerator pedal sensor and the connector (figure 2) is responsible for the above-mentioned problem.
Remedy:
Check the plug-type connection for damaged or corroded connector pins (figure 2, figure 3) and replace if necessary
Spare parts:
-Single cable: 000 979 025 EA
-Crimp connector: 000 979 940
Check that the accelerator pedal sensor is functioning correctly
(carry out a noise or potentiometer test using an oscilloscope) and replace if necessary.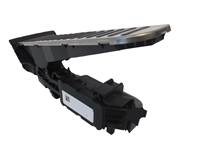 Figure 1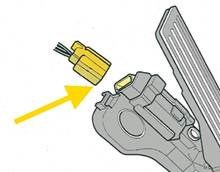 Figure 2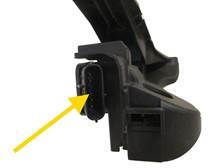 Figure 3