BMW i3 (I01) - Noisy doors | HELLA
BMW
i3 (I01)
Model year: 2013
Noisy doors
In this case, the customer complains of an unpleasant creaking or jarring noise when opening or closing the doors.
Troubleshooting:
A closer look at the door mechanism revealed that the fastening screw of the door check strap had come loose.
(It is possible that all doors can be affected).
Remedy:
- Disassemble the fixing screw
- Check the mounting hole and the screw for damage (thread, etc.) and repair or replace if necessary
- Tighten the fixing screw to torque as specified by the vehicle manufacturer (22Nm) (see picture)
- Repeat this procedure for all doors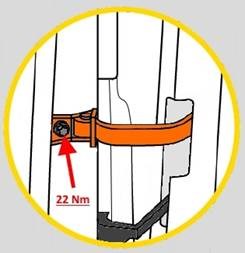 -Fixing screw (ASA M8x22) OE No. 07147248803
Caution: Electric vehicle!
High-voltage components - risk of accident and injury (electric shock)!