Electric Vacuum Pumps | HELLA PAGID
Electric Vacuum Pumps in Brake Systems
The brake system is one of the most important systems in any vehicle. Ensuring that stable and effective braking power is available at all times usually requires a vacuum pump.
Until recently, the majority of brake boosters used the vacuum generated by the internal combustion engine's intake section. Under certain operating conditions (e.g. during the cold start/warm-up phase, driving at extreme altitudes or when using the air-conditioning system), the vacuum produced by the engine is no longer sufficient.
Application
Electric vacuum pumps are used to ensure the reliable operation of the brake booster.
Aside from the internal combustion engine, modern engine technologies such as those found in electric or hybrid vehicles are not able to build up vacuum pressure.
The electric vacuum pump is therefore required to generate an alternative or additional vacuum for these technologies.
This additional vacuum pump ensures compliance with the latest safety standards, while maintaining reliable operation of the brake system, which operates with pneumatic brake boost.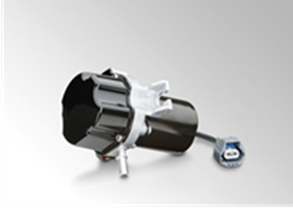 Advantages
Advantages of an additional vacuum pump
Supports all engine types, including hybrid and electric vehicles
Reduction in energy requirements thanks to on-demand pump operation
Supports the reduction of CO2 emissions
Independent of combustion engine technology
Maintenance-free (dry running, self-lubrication requires no connection to the oil circuit)
Electrically driven vacuum pumps support a flexible vehicle platform concept
HELLA Product Range
With longstanding experience and worldwide reach, HELLA has been the global market leader for many years for original equipment vacuum pumps.
HELLA supplies vacuum pumps for any application, from compact to high-power pumps, depending on the required vacuum performance.
Designation
UP28
UP30
UP32
UP5.0
Rated voltage
13.5 volts
14.0 volts
13 volts
13 volts
Average current consumption
< 10 A
< 15 A
< 18 A
< 15 A
Pump operation time
600
hours
1,200 hours
1,200 hours
1,500 hours
Maximum vacuum level (at ambient pressure)
86 %
(typically ≥ 88 %)
86 %
(typically ≥ 88 %)
86 %
(typically ≥ 88 %)
≥ 90 %
50 % of ambient pressure
≤ 5.5 s
≤ 3.5 s
≤ 3.1 s
≤ 3.0 s
70% of ambient pressure
≤ 11 s
≤ 7 s
≤ 6.2 s
≤ 5.5 s
Booster size
3.2 l
4.0 l
5.0 l
5.0 l
Sound level
< 70 db (A)
< 77 db(A)
< 78 db(A)
< 73 db(A)