Brake pad wear indicator | HELLA PAGID
Task
The wear indicator is a monitoring device used to inform the driver promptly when the brake pad has reached its minimum thickness/wear limit. For disc brake pads, this is usually two millimeters. The wear indicator may be electronic or acoustic, depending on the brake system.
Acoustic wear indicator
The acoustic wear indicator is purely mechanical, and takes the form of a scratch plate (A) mounted on the base plate of the brake pad. When the wear limit is reached, the brake disc comes into contact with the scratch plate when the brake is operated. The combination of this contact and the rotation of the brake disc generates an unpleasant screeching sound.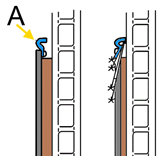 Electronic wear indicator
In its simplest form, an electronic wear indicator comprises a wear indicator in the brake pad, a circuit and a warning display on the dashboard. When the wear limit on the brake pad is reached, contact is made with the warning contact (B) embedded in the brake pad. This completes the circuit, causing the warning device to light up. Either 2 or 4 warning contacts may be installed, depending on the design of the brake system.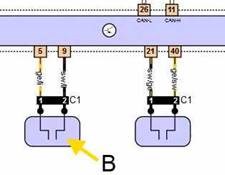 Repair note
The electrical wear contacts must always be replaced when replacing the brake pads!
When performing diagnostics or repairs, please observe the vehicle-specific information provided by the vehicle and brake manufacturers.