Volkswagen Polo - Heating/air conditioning temperature control | HELLA
Volkswagen
Polo (9N)
Year of manufacture: 2001 - 2009
With automatic air conditioning
Heating/air conditioning temperature control
If there are problems with the temperature control of the heating or air conditioning in the above vehicles, a faulty evaporator temperature sensor (Fig. 1) may be responsible.
The fault can be diagnosed by reading out the event memory of the air conditioning and by querying the measured value blocks.
The evaporator temperature sensor is located on the left side in the upper area of the heating / evaporator box and is difficult to access.
You can access the sensor in the following manner from the driver's footwell in left-hand drive vehicles:
Remove the air vent in the footwell
Remove the comfort control module (Fig. 2, pos. A)
Remove the comfort control module bracket (Fig. 2, pos. B)
The sensor's connector is now visible above the footwell (Fig. 3)
Unlatch and pull out the sensor's connector
Pull out the sensor
Insert a new sensor
Reinstall the bracket, control unit and air vent
Read out fault memory and delete if necessary
Carry out a function test
TIP: Aids such as an optical square and flexible inspection lamp facilitate disassembly/assembly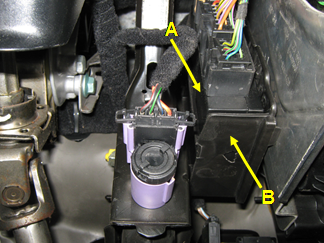 Figure 2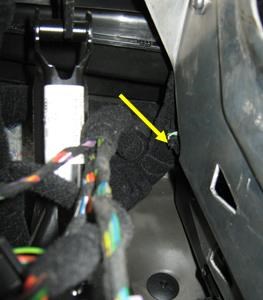 Figure 3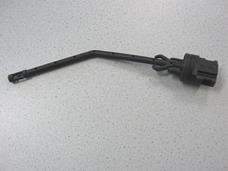 Figure 1