VW Touareg - Erratic driving behaviour | HELLA
VW
Touareg
(7P5)
Engine code: CNRB
Model year: 2013
Erratic driving behaviour
Electrical malfunctions
If the above-mentioned problems are identified, one possible cause may be a damaged wiring harness in the engine compartment.
In this case there may be contact between the engine wiring harness (Picture, position 2) and the pressure pipe housing (Picture, position 3).
This can lead to damage being caused to the wiring harness (Picture, position 2), which can subsequently trigger the malfunctions in question.
In order to exclude other possible causes of malfunction, electrical and mechanical system tests (in accordance with vehicle manufacturer specifications) and also a fault code query using a suitable diagnostic unit should be carried out.
Firstly, repair or replace the damaged wiring harness (Picture, position 2) according to the vehicle manufacturer's specifications.
If no further malfunctions can be detected, a spacer ring (Picture, position 1) (OE No. N 107 162 01) can be fitted as a protection against repeat damage.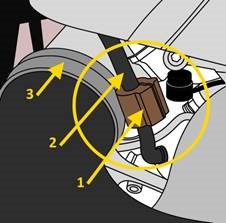 Finally, a test drive should be undertaken and also a second error code query carried out in order to run a check on the repair work.
Please note that such repair work should only be carried out by an authorised specialist workshop and that the vehicle manufacturer's repair and maintenance instructions are to be observed!