Opel/Vauxhall Astra K - Noises in the area of the C-pillar | HELLA
Opel/Vauxhall
Astra K
Model year: 2015-2018
All 5 doors
Noises in the area of the C-pillar
In this repair case, the customer criticises an unpleasant, squeaky noise in the area of the C-pillar when driving.
Troubleshooting:
When checking the door lock mechanism, it emerges that the lower fixing screw (figure 1) of the door locking plate has been made too long. This results in contact between the screw tip and the inner sheet metal of the right C-pillar (can also affect the left C-pillar).
Remedy:
- Disassemble the fixing screw (figure 1)
- Shorten the screw by approx. 1.5 mm at the screw tip (figure 2)
- Install the fixing screw and tighten to the torque specified by the vehicle manufacturer
- Repeat this measure on the left side if necessary (locking plate of the left C-pillar)
Finally, a test drive should be performed to check the repair work.
Please note that such work should only be carried out by an authorised specialist garage and that the vehicle manufacturer's repair and maintenance instructions must be observed!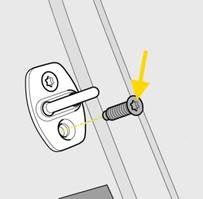 Figure 1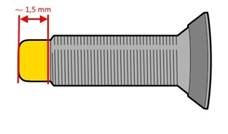 Figure 2