Ford Maverick - Engine not running smoothly | HELLA
Ford
Maverick
2.0L / 3.0L
Engine code: YF / AJ
Model year: 2001–2002
Engine not running smoothly
Engine control lamp (Mil) lit.
If complaints are made about the above-mentioned vehicle, i.e. that the engine is irregular and not running smoothly and also that the engine control lamp is lit, these could be signs of a defect in the exhaust gas recirculation system (EGR system).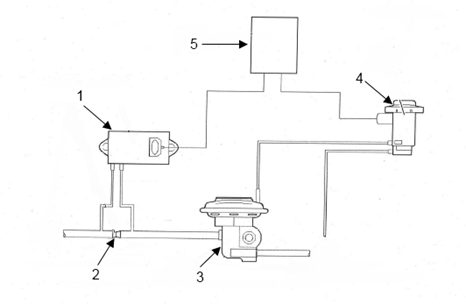 Fig. 1
- Pos. 1 = Differential pressure sensor
- Pos. 2 = Differential pressure measuring point
- Pos. 3 = EGR valve
- Pos. 4 = Exhaust gas recirculation solenoid valve
- Pos. 5 = Engine control unit
The following error codes could be saved in the error memory of the "Engine" system.
-P0401 "EGR return system / exhaust gas flow rate too low"
-P0402 "EGR return system / exhaust gas flow rate too high"
First of all, the pneumatic EGR valve is to be checked.
If no fault is found here, the differential pressure sensor should be regarded as a possible source of the trouble.
The measured values of the exhaust gas return rate are measured by the differential pressure sensor at the differential pressure measuring point (see Fig. 1). These values are forwarded as a voltage signal to the engine control unit. A technical fault could bring about an erroneous measurement of the amount of exhaust gas actually recirculated.
The two hose connections on the housing (see Fig. 2) are to be checked to ensure that they are in the correct position (input and output) and checks should also be run to search for any possible damage to the hose connections.
If no fault shows up here, everything points to a defect with the differential pressure sensor, in which case this sensor should be replaced.
A modified differential pressure sensor is available from the vehicle manufacturer.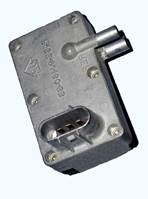 Fig. 2