Opel Insignia - Engine warning light comes on | HELLA
Opel
Insignia
Model year: 2012 – 2013
With engine: 1.6L (LLU) A16LET
Loss of engine power.
Engine warning light comes on.
If there are reports of a loss of engine power and the engine warning light comes on for these vehicles, a malfunction of the turbocharger's solenoid valve (wastegate) should be considered as a potential cause.
In addition, the error codes P0234 and P0299 may be stored in the engine control unit's error memory.
Error code 'equivalent' to:
- P0234, 'Turbo/supercharger, wiring harness, bypass valve'.
- P0299, 'Turbo/supercharger, mechanical malfunction'.
Sticky residue in the solenoid valve's steel nozzle (plug side) can hinder the switching function. The cause of this could stem from the use of a lubricant for making assembly easier during the production or assembly process.
The turbocharger solenoid has to be replaced to correct the error.
The manufacturer is offering the following spare part for this purpose.
- Spare part No.: 8 50 350 (GM No.:55574902).
Proceed as follows during the replacement:
- Ensure the section has been de-energized or disconnect the solenoid valve from the power.
- Disconnect the hoses (Figure, item 1).
- Unscrew the screw (Figure, item 2).
- Replace the turbocharger's shift solenoid valve (Figure, item 3).
- Then reattach the screw and hoses.
- Clear the error codes.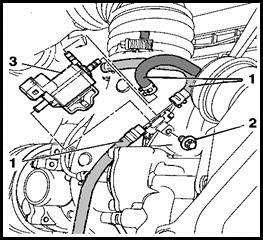 Figure.