Vauxhall Corsa B - Engine jerking while driving, irregular idling | HELLA
Vauxhall
Vauxhall Corsa B
Engine code: X12XE (1997 to 2000)
Engine jerking while driving,
irregular idling.
If there are complaints about the problems mentioned above, the problems could be caused by a defective idle speed control/idle actuator (Figure 2).
The following complaints may be encountered:
- Varying idle speed (+/- 100 rpm).
- Engine jerks while idling.
- Engine does not accelerate properly.
- Engine jerks when accelerator pedal is released.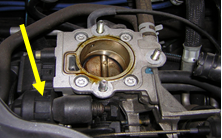 Under certain circumstances the engine warning light (Figure 1) will also turn on and the fault code P0505 may be stored (Figure 3).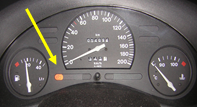 Figure 1.
Figure 2.
Screenshot: Diagnosis with Hella-Gutmann_mega macs

Figure 3.