Nissan X-Trail (T31) - Leak from the fuel level sensor | HELLA
Nissan
X-Trail (T31)
Engine: 2.5 i 16V
Model year: 11/2006 - 09/2008
Leak from the fuel level sensor
In most cases, the problem mentioned above only occurs when the tank is full.
The cause in such a case is inadequate sealing of the gas tank sensor because of a faulty seal.
Repair notes
Caution flammable gases (danger of explosion and poisoning) Please always observe the safety regulations and protective measures to be taken by people working on fuel systems!
Replace the defective gasket (Diagram - position 3) with a new one in accordance with the vehicle manufacturer's specifications.
Access to the mounting opening of the fuel level sensor unit is located below the rear seating area.
OE spare part no.
- Gasket 1734279900 (Diagram - position 3)
And if necessary:
- Circlip 17343JG00A (Diagram - position 1)
- Fuel level sensor unit 25060JG00A (Diagram - position 2)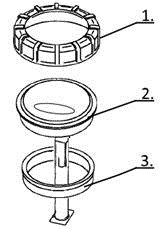 Please always observe the repair and maintenance notes provided by the vehicle manufacturer when carrying out such work.