BMW i3 (I01) - Interrupted radio reception | HELLA
BMW
i3 (I01)
Model year: 2013
Interrupted radio reception
When such a repair is required, the customer complains that the radio reception fails completely or that it is interrupted.
Troubleshooting:
An error code query using a suitable diagnostic unit showed that no error codes had been stored.
On closer inspection of the roof antenna unit, it was discovered that the antenna rod was damaged (a cracked or broken threaded rod), a situation which could lead to the above-mentioned problem.
Remedy:
- Disassemble the antenna rod
- Check the thread on the antenna rod (see photo) and also the thread in the roof antenna unit for damage and repair or replace if necessary.
- Mount the new antenna rod
- Check functioning of the radio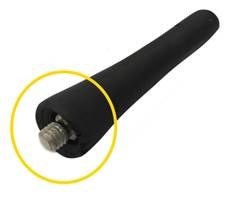 -Antenna rod OE No. 65209355718
Caution: Electric vehicle!
High-voltage components - risk of accident and injury (electric shock)!